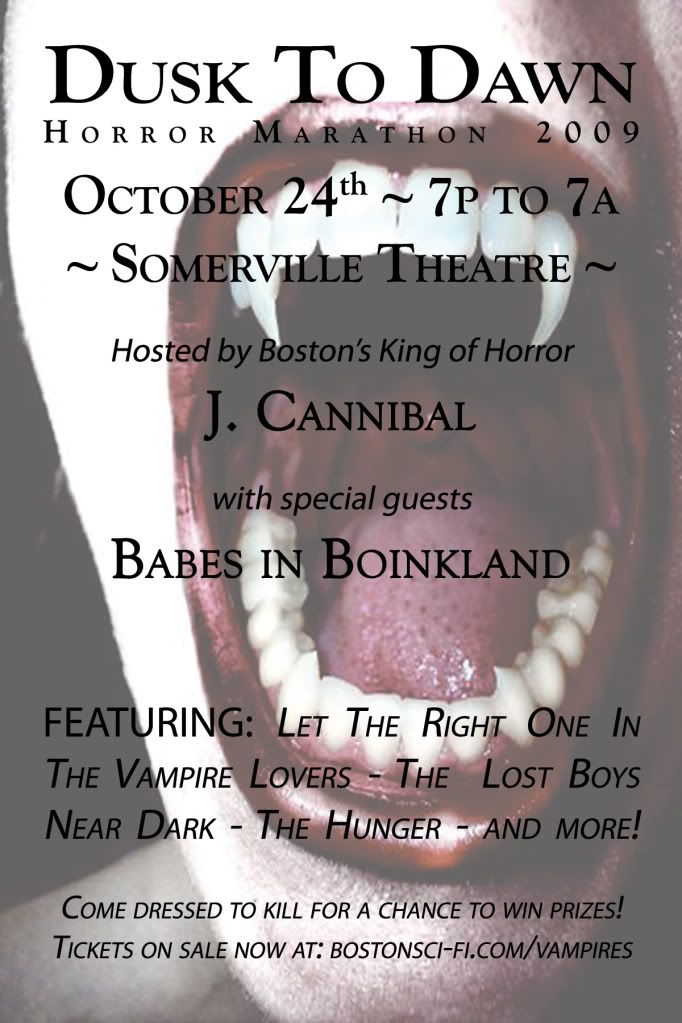 Hosted by Boston's Master of Macabre


J. CANNIBAL



With the Award-Winning Burlesque Ensemble


BABES IN BOINKLAND



** Featuring six vampire film classics! **
** Plus prizes, costume contests and more! **

Save yourself $5 and buy yout tix ahead of time here or at
Somerville Theater
55 Davis Square - Somerville, MA
www.somervilletheatreonline.com


----------------------------------------
Featuring the films...

LET THE RIGHT ONE IN
The surprise hit of this year from Sweden, and one of the best vampire films in years.

NEAR DARK (very rare 35mm print!)
A group of vampires scouring America's southwest picking fights, kicking butt and spilling as much blood as they can slurp.

THE VAMPIRE LOVERS
Vampires that swing both ways!

THE LOST BOYS
An ensemble cast of handsome young men bringing sexy back, vampire style.

THE HUNGER
David Bowie as a vampire? Yes please.

THIRST
Dark and excellent take on vampire morality form Korea's Park Chan-wook

We're also putting together some stellar clip and trailer reels from other vampire films we couldn't fit into the marathon…

Additional between-film activities include:
* vampire costume contest
* vampire trivia
* vampire burlesque
* "blood" drinking contest
... and prizes galore! Don't forget that it runs from 7p to 7a so if you have to show up late or leave early you should still be able to catch a few films and lots of interactive fun. And in case you forgot: the Somerville Theater serves wine, beer and ice cream--along with the usual movie snacks.